New Arrivals  So much has been happening here at Wellsmere Collies!
Thanks to Laura Labounty of Special Collies who allow us to add Special For Your Eyes Only (Sheena) to our family.  Sheena has the sweetest personality and is incredibly smart.  Shown here getting her 5th point towards her championship!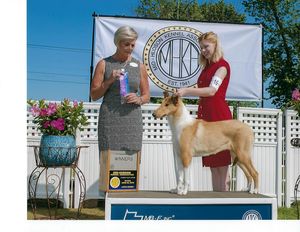 In addition,  there was more than fireworks on July 4th!  Jazzy and Galahad had a bouncing litter of 9!  4 tri boys, 2 tri girls, and 3 blue girls.  All are non-carriers of CEA/PRA/HUU/DM and MDR1 +/+ or +/-.  Deposits are being taken for picking order.  These pups will be ready to go just before Labor Day weekend so if the timing works to add a new collie pup to your life give me a call to set up a site visit to meet me and my pack!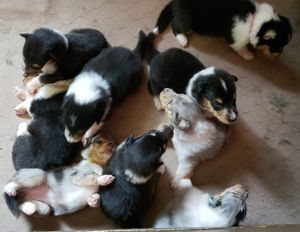 WARNINGS!!!!!!!
I continue to here about neurological issues with NEXGARD and BRAVECTO in collies and other breeds.  The FDA has not recalled the products but has issued a warning!  Please do not use either.  As collie owners, we know that collies metabolize some drugs differently.  When in doubt, stick with the tried and true medicines!
The U.S. Center for Disease Control (CDC) is expanding its investigation into an outbreak of Salmonella in 27 states due to contaminated pig ear dog treats.
For more information, including which states are listed in the CDC announcement, please visit the following link:  Salmonella Outbreak Linked to Dog Treats Expands
Bragging Rights!!!
Congratulations to Helmut and Wellsmere Special Bewitched for achieving her AKC UDX title (Utility Dog Excellent).  UDX is the pinacle obedience title offered by the AKC.  Congratulations also need to be lauded for their #2 national ranking in 2108 standings of First and Foremost!
I hope everybody's summer is going well and safe.  Remember our 4 legged friends in extreme weather conditions.  They rely on us for the safety and well being!